< Back
California governor responds to Nunes on canceling school: 'We'll continue to listen to the experts'
April 3, 2020
BY MARTY JOHNSON

California Gov. Gavin Newsom (D) on Friday brushed aside Rep. Devin Nunes's (R-Calif.) claim that it was "overkill" for California to cancel the rest of the school year amid the coronavirus outbreak.
"We'll continue to listen to the experts and try to avoid some elected officials that frankly may not have the benefit of some of the insight that many of us do," Newsom told "The View" host Joy Behar via video call.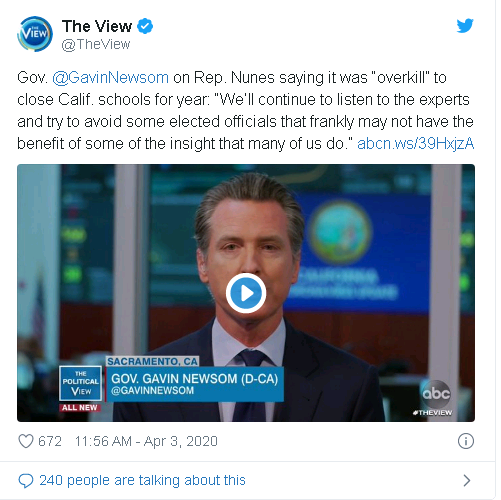 Nunes had said that schools in California could've gone back to physical classes "in two to four weeks."
Newsom hasn't officially canceled the school year in California, though earlier in the week the state's superintendent of public instruction, Tony Thurmond, said that it was likely students would not return to the classroom, but that virtual instruction would continue.
On Thursday night Nunes asserted that people should get back to work as soon as possible, despite the White House extending its social distancing advisory for all Americans until the end of April.
"We got to make sure that this money gets to the employers to keep as many people employed in this country as possible, while at the same time look for opportunities that we can get parts of this economy opened back up," he told Fox News's Sean Hannity.

"Now, when I say that, that doesn't mean that we're not taking this virus seriously. This is a very contagious virus," Nunes continued. "It would have to treat it seriously, but at the same time we need to get folks back to work that can get back to work."
At the beginning of the week, President Trump told the country to brace for a "very, very painful" two weeks. The White House's death toll projections for COVID-19 indicated that 100,000 to 240,000 Americans could die from the disease, even if social distancing and other measures prove effective.
Source: https://thehill.com