< Back
America doesn't want another Tea Party
April 20, 2020
#CoronavirusImpact #StayHome #Politics #DonaldTrump #Elections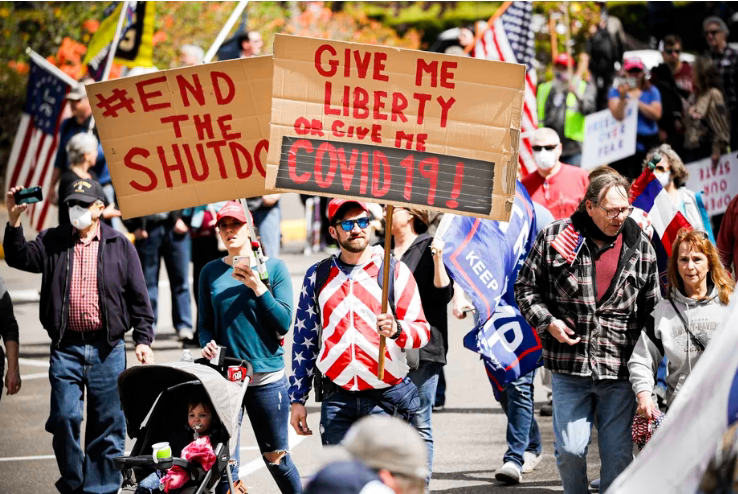 Demonstrators begin to gather at a protest opposing Washington state's stay-home order in Olympia, on April 19.
Elaine Thompson/AP
Don't be fooled by Fox News, Donald Trump, or the same type of groups that produced the Tea Party a decade ago: The protesters taking to the streets against social distancing are a small minority of Americans — and their attitudes represent a fraction of public opinion.
In fact, America has done something remarkable in this moment: It has united.
Last week, 81 percent of Americans told pollsters for a Politico/Morning Consult poll that the country "should continue to social distance for as long as is needed to curb the spread of coronavirus, even if it means continued damage to the economy."
Let me repeat that: 81 percent of Americans agree. That's an astounding figure.
An NBC poll found a lower rate at 60 percent, but still a solid majority. Large majorities of Democrats and independents are more concerned about the virus than the economy, as are about half of Republicans.
This consensus is striking given that Americans live in an era when they're divided along party lines on everything from climate change to the NFL.
But continued vigilance is required. Trump will keep trying to divide Americans ahead of the election this fall. Fox will continue to air images that make the anti-social-distancing movement look mainstream. Well-funded conservative groups will gin up more events.
Protesters demonstrate against what they call "government overreach" in response to the coronavirus, in front of Indiana Gov. Eric Holcomb's mansion in Indianapolis, on April 18.
Jeremy Hogan/SOPA Images/LightRocket via Getty Images
This is the same playbook that worked in 2009 when the conservative machine sparked the Tea Party, which shaped American policy for a decade. Tea Party politics delayed the recovery from the Great Recession, hobbled attempts to expand health care coverage that is desperately needed right now, and left the medical-supply stockpile under-funded, putting medical providers in grave danger as they fight to save the lives of Covid-19 patients.
The stakes are too high to fall for the same pantomime. Social-distancing supporters are the dominant movement. And the country needs to remember it.
Trump and Fox are putting lives at stake
Trump's approach to the pandemic has been to crow about his administration's imaginary successes while blaming governors for everything that's gone wrong.
On Friday, he escalated his message, endorsing the anti-stay-at-home protests cropping up across the country — specifically the protests in battleground states run by Democratic governors.
Moments after Fox News aired a segment on the rallies, Trump tweeted their rally cry against their governors: "LIBERATE."
LIBERATE MICHIGAN!

— Donald J. Trump (@realDonaldTrump) April 17, 2020
Trump has peddled dangerous misinformation about the virus since the start. He's undermined policies encouraged by the CDC (he told Americans they should wear masks outside but quickly added that he doesn't plan to). This endorsement is perhaps the most dangerous thing he's said.
There's a lot that's not yet known about Covid-19, but we do know that gatherings spread the virus. Again and again, when groups get together, attendees get sick. Some have died. And we don't know the extent to which they've spread it to others, though we know it's a terribly contagious virus.
We also know that Americans are actually doing a good job social distancing, which health experts are crediting with a more optimistic outlook on the number of Americans who will die from the virus than initially feared.
But Fox News is trying to convince Americans that there's a groundswell of opposition to these important measures, attempting to make small rallies look big and fringe attitudes look mainstream.
On air, they've displayed images that make the protests seem significant. A first glance at the map below makes it look like a huge number of rallies have already happened, but they haven't. It's a double-whammy: The movement looks large and Fox encourages viewers to join.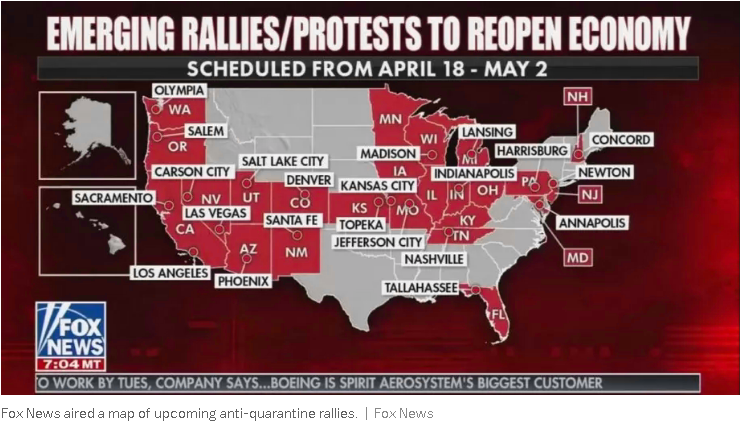 The same images were used in the early days of the Tea Party, when Fox trumped up the rallies, describing them as part of a "revolution" and urging viewers to join.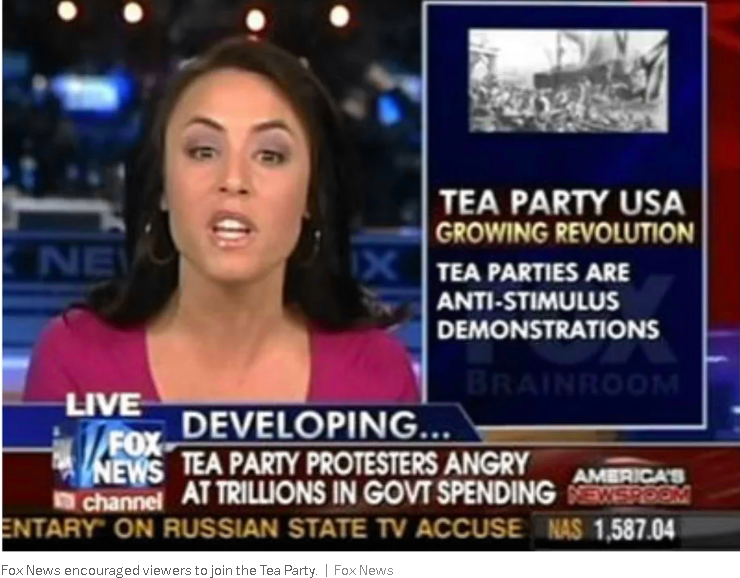 Conservative groups are playing an important part, too. Three pro-gun groups are behind the largest Facebook group encouraging the protests, according to an investigation by the Washington Post.
In Michigan, a group funded by Trump ally Education Secretary Betsy DeVos helped get out the word.
And the same Tea Party groups that were successful a decade ago are eager to join in.
Trump needs to divide people to win
Trump won in 2016 in part because of his success with rural white voters in states Barack Obama won and he's ratcheting up his strategy to do it again.
The clearest example is in Michigan, where Democratic Gov. Gretchen Whitmer's in-state popularity has soared to 15 percent higher than Trump's. Nationally, her profile is on the rise. Her name is being floated as a possible vice presidential pick.
Whitmer has become a target of Trump's, starting weeks ago and up until protests hit her state last week.
"We've had a big problem with the young, a woman governor," Trump said in an interview with Sean Hannity. "You know who I'm talking about, from Michigan." Trump dismissed Whitmer's requests for the federal government to provide more medical equipment to her state and said their interactions had "not been pleasant."
Last week, conservative groups in Michigan encouraged residents to drive to Lansing and snarl traffic in opposition to Whitmer's response to Covid-19. Michigan has been hit harder than most other states during the pandemic. It's the tenth-largest state by population, but it has seen the third-most deaths.
Whitmer has taken more aggressive steps to combat the spread of the disease than most other governors, including extending a statewide stay-at-home order by two weeks. She also ordered big-box stores like Home Depot to suspend the sale of nonessential items, like gardening supplies and paint, during the extension.
Last Wednesday, some protesters in the state capital of Lansing got out of their cars and stood together in a display that quickly turned into a 2016-style rally. Attendees wore MAGA hats, they chanted "lock her up" (referring to Whitmer) and waved pro-Trump signs.
Images from the event showed protesters ignoring social-distancing rules.
Almost no masks and no regard for social distancing guidelines outside of the Governor's Residence. @MPRnews pic.twitter.com/8aMLHSHYzA

— Evan Frost (@efrostee) April 17, 2020
Trump needs the same rural white voters who carried him then to come out for him again. He's getting them fired up right now. In part, it's an effective message because rural areas of Michigan have been hit far less hard than blue urban centers like Detroit, where most of the cases and deaths have been concentrated. (Whether it'll stay that way with protesters risking bringing it back home is an open question.)
Weeks ago, Trump warned that the cure for the disease can't be worse than the virus itself. Many economists have since weighed in, arguing that that is a false choice. We can take steps to shore up the economy through actions by the Fed and stimulus packages in Congress while attempting to curb the virus.
At the same time, there's no way for the economy to turn back on like a light switch. Covid-19 cases in the US are still on the rise, and most Americans say they wouldn't go back to normal life even if the rules changed. That's not a recipe for economic recovery.
The most-respected plan is the one Trump's own administration has set forth. Once deaths and new cases are down for a solid period of time, once testing can track the virus's spread, the rules can slowly start to change. It's a cautious approach based on the best evidence available. It's not about politics. And most Americans don't want it to be.
Source: https://www.vox.com