Trending List
>>
Who's in the Democratic Debates, and Who's in Danger of Missing Them
Who's in the Democratic Debates, and Who's in Danger of Missing Them
April 30, 2019
By MAGGIE ASTOR, DENISE LU and MATT STEVENS UPDATED APRIL 30, 2019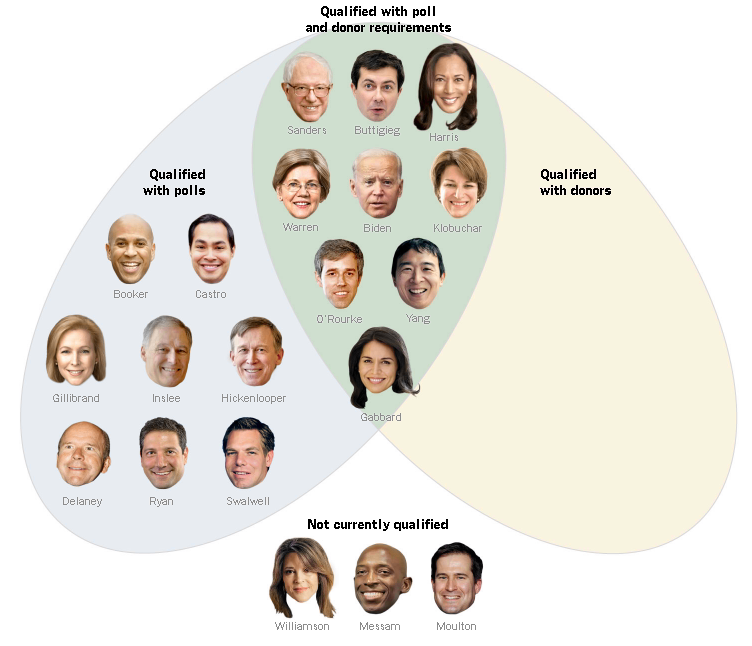 As you may have heard, the first Democratic presidential debate will be split across two nights, June 26 and 27, because there are so many candidates: 20 and counting.
What you may not have heard is that the debate qualifications are turning out to be relatively easy to meet — to the point that they may cause embarrassment for some Democrats.
First, let's lay out the qualifications: A candidate either has to receive donations from 65,000 people (including 200 donors apiece in 20 states) or has to register 1 percent support in three polls. Only polls from a preset list of organizations are accepted, and candidates cannot count two polls from the same pollster in the same place.
The potential for embarrassment is this: According to a New York Times analysis, eight candidates will qualify based on polling but not, as of now, based on donors. Hitting 1 percent support in a handful of polls is a breeze for most candidates. But these eight Democrats risk appearing like they are skating onto the debate stage because of a really low poll threshold, not because of appeal among grass-roots donors.
The Times analysis found that if the debate was held today, 17 of the 20 candidates would make it to the stage. The qualifiers will be divided into two groups at random. This means that a number of candidates at the back of the pack in polling and fund-raising will still share a stage with the heavyweights in the race.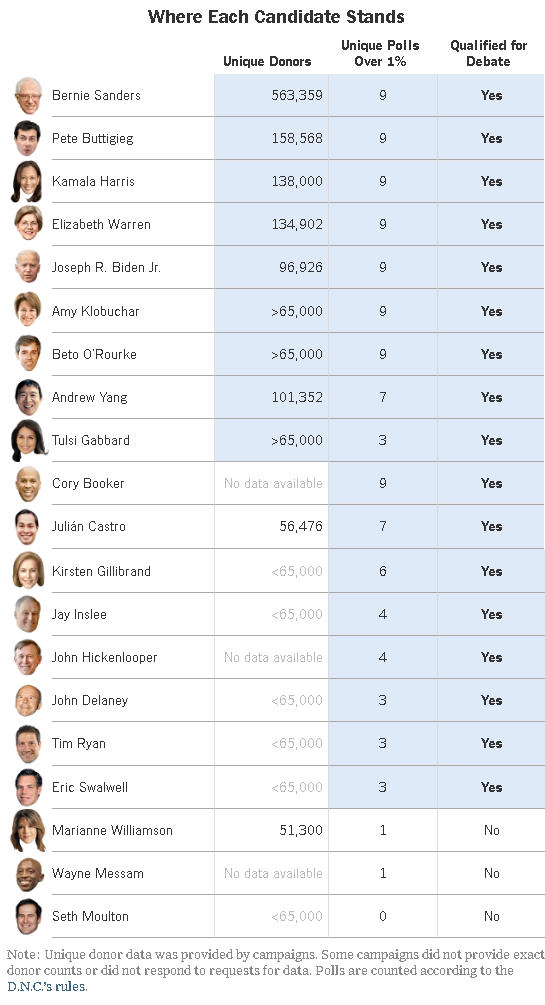 If more than 20 candidates qualify, the D.N.C. has said it will prioritize those who met both the donor threshold and the polling threshold. If more winnowing is needed, polling averages will come into play, and that's where some candidates could really be in trouble: Kirsten Gillibrand, for instance, clears the "three polls of at least 1 percent" bar just as surely as Senators Kamala Harris and Elizabeth Warren do, but her average is much lower.
If that didn't do the trick, the final tie-breaking measure would be the number of donors, in which case candidates who just barely cleared the 65,000 threshold could be cut.
Source: https://www.nytimes.com/interactive/2019/04/29/us/politics/democratic-primary-debates-2020.html