2019
General election
Incumbent John Bel Edwards (D) defeated Eddie Rispone (R) in the general election for Governor of Louisiana on November 16, 2019.
John Bel Edwards

(D)
774,469 Votes

✔

Eddie Rispone

(R)
734,128 Votes
Total votes: 1,508,597
(100% precincts reporting)
Primary election
The following candidates ran in the primary for Governor of Louisiana on October 12, 2019.
John Bel Edwards

(D)
625,970 Votes

✔

Eddie Rispone

(R)
368,319 Votes

✔

Ralph Abraham

(R)
317,149 Votes

Oscar Dantzler

(D)
10,993 Votes

Patrick Landry

(R)
10,966 Votes

Gary Landrieu

(Independent)
10,084 Votes
Total votes: 1,343,481
Candidate profile
Eddie Rispone, businessman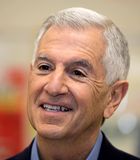 Party: Republican
Incumbent: No
Political office: None
Biography: Rispone received a B.S. in construction technology from Louisiana State University. He founded ISC Constructors with his brother. Rispone served as national chairman of Associated Builders & Contractors, a trade association, in 2003. Former Gov. Bobby Jindal (R) appointed him chairman of the Louisiana Workforce Investment Council.
Key messages
Rispone said in a TV

ad

, "I'm no career politician. I'm a conservative outsider who stands with our president."
Rispone emphasized his support for a constitutional convention and for Trump's immigration policies. He said he was pro-life and supported work requirements for welfare recipients, lower taxes, and the Second Amendment.
Rispone referred to Edwards as a "liberal, trial lawyer, tax-and-spend career politician" and

said

that Louisiana ranked toward the bottom in healthcare, safety, education, and economy under Edwards.
Rispone stated he was a "proven job creator" and employed more than 3,000 families through his construction business.
Self-financing
Rispone loaned his campaign $12 million through October 27, 2019.
Satellite spending
Satellite spending, commonly referred to as outside spending, describes political spending not controlled by candidates or their campaigns; that is, any political expenditures made by groups or individuals that are not directly affiliated with a candidate. This includes spending by political party committees, super PACs, trade associations, and 501(c)(4) nonprofit groups.
This section lists satellite spending in this race reported by news outlets in alphabetical order. If you are aware of spending that should be included, please email us.
The Democratic Governors Association contributed $5.5 million to the pro-Edwards Gumbo PAC through October 27, 2019.

Gumbo PAC had spent $3.9 million toward the race as of September 20.
As of October 23, Gumbo PAC spent $1.1 million on radio and TV ads to air during the general election.
The

Republican National Committee

spent $1 million on get-out-the-vote efforts in the days leading up to the election, bringing their contributions to $2 million, Politico reported on November 14.
The Republican Governors Association Right Direction PAC had spent $6.2 million toward the race through October 27. The group aired opposition

ads

against Edwards.
Truth in Politics, a group opposing Edwards, spent $750,000 on an

ad

released October 3.
Race ratings
The Cook Political Report, Inside Elections, and Sabato's Crystal Ball. Each race rating indicates if one party is perceived to have an advantage in the race and, if so, the degree of advantage. Race ratings are informed by a number of factors, including polling, candidate quality, and election result history in the race's district or state.
Race ratings: Louisiana gubernatorial election, 2019
Race tracker
Race ratings
November 14, 2019
November 5, 2019
October 22, 2019
October 8, 2019
The Cook Political Report
Toss-up
Toss-up
Toss-up
Lean Democratic
Inside Elections with Nathan L. Gonzales
Toss-up
Toss-up
Toss-up
Toss-up
Larry J. Sabato's Crystal Ball
Lean Democratic
Toss-up
Toss-up
Lean Democratic
>