Trending List
>>
FIGHT! Alexandria Ocasio-Cortez And Nancy Pelosi Throw Down Over Border Spending Bill
FIGHT! Alexandria Ocasio-Cortez And Nancy Pelosi Throw Down Over Border Spending Bill
July 8, 2019
By EMILY ZANOTTI | DAILYWIRE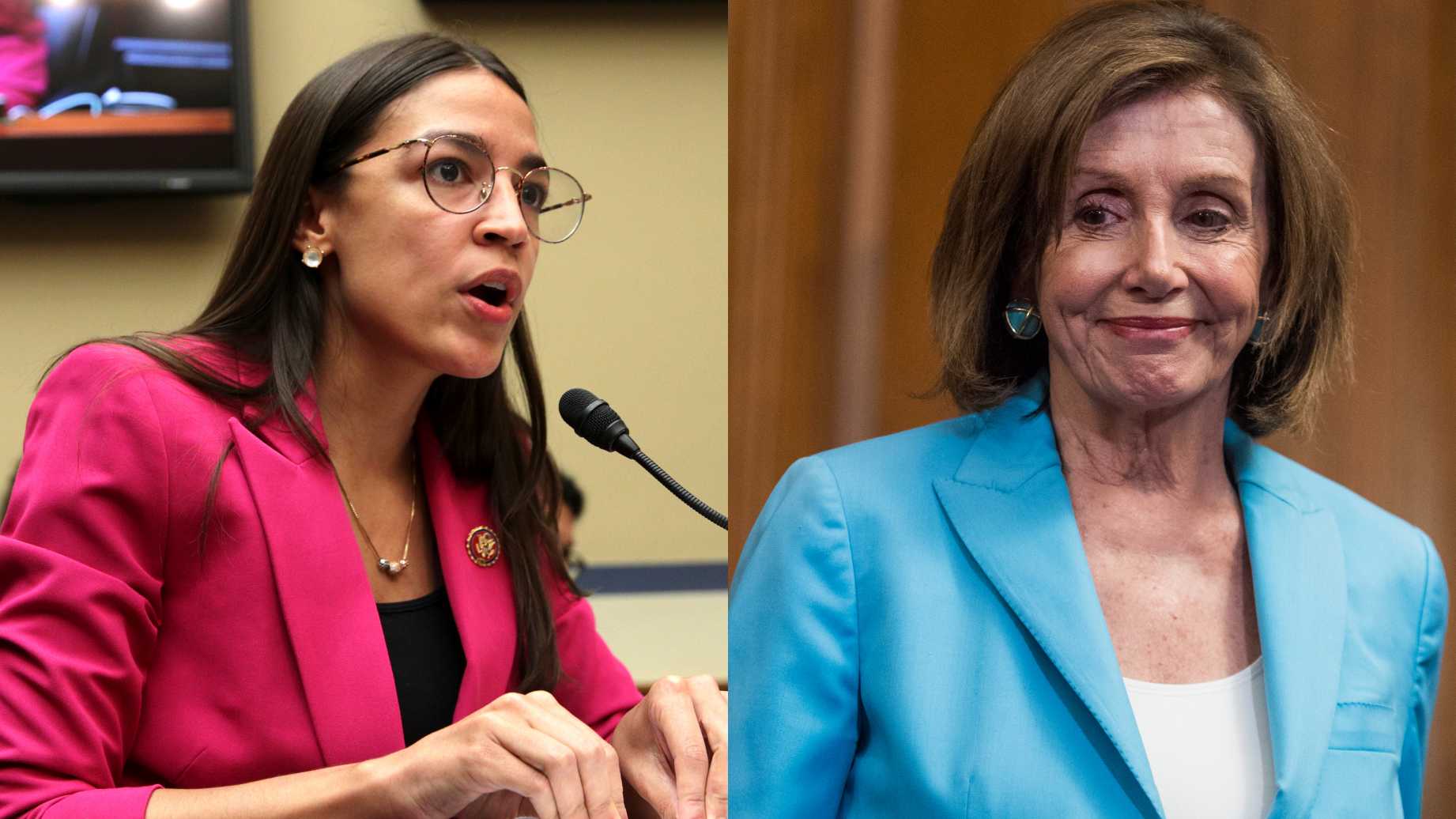 Getty Images: Alex Wong/Tom Williams
Over the weekend, the notoriously frosty relationship between Speaker of the House Nancy Pelosi (D-CA) and newcomer progressive Rep. Alexandria Ocasio-Cortez turned heated after Pelosi lobbed a thinly-veiled insult at Ocasio-Cortez's Twitter politicking.
On Friday, Pelosi aired a series of grievances in The New York Times, hitting back at Ocasio-Cortez and fellow progressives, Rep. Ilhan Omar (D-MN), Rep. Rashida Tlaib (D-MI), and Rep. Ayanna Pressley (D-MA) for failing to fall in line behind the Democratic caucus and approve a $4.5 billion emergency spending bill aimed at addressing the humanitarian crisis at the southern border, even after the quartet complained loudly of the treatment asylum seekers were receiving.
"All these people have their public whatever and their Twitter world," Pelosi said. "But they didn't have any following. They're four people and that's how many votes they got."
Pelosi seemed particularly aggrieved by a statement, put out by the four women (among others) chastising Democrats for funding what they believe to be a murderous organization hellbent on destroying the lives of immigrants.
"These radicalized, criminal agencies are destroying families and killing innocent children," the statement read, according to Fox News, and called on Congress to defund both Immigration and Customs Enforcement and Customs and Border Protection, ostensibly in pursuit of an "open borders" immigration policy.
Pelosi brushed the plan off as absurd.
"As I say to these people, come to my basement. I have these signs about single-payer from 30 years ago. I understand what they're saying. But we have a responsibility to get something done, which is different from advocacy. We have to have a solution, not just a Twitter fight," she told the Times. "If the left doesn't think I'm left enough, so be it."
Ocasio-Cortez was clearly infuriated at Pelosi's comments, insisting that the four progressives had little support anywhere outside of social media and weren't pursuing an achievable agenda. On Sunday, she hit back, tweeting: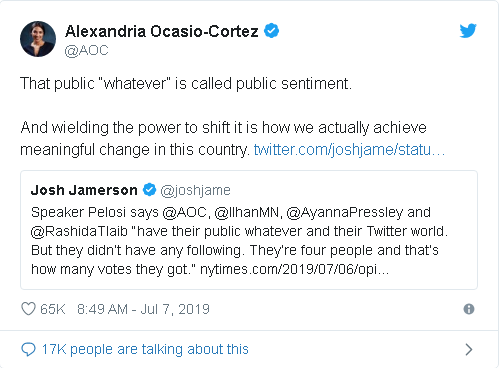 It's not clear that the public supports Ocasio-Cortez's plan to end immigration control, but Ocasio-Cortez's feedback machine appears to be social media, which presents something of a skewed vision of "public sentiment."
Ocasio-Cortez also criticized Pelosi for spending money on traditional advertising to gain support for Democratic proposals, seemingly of the opinion that social media is an easier and cheaper way to build a following.
That might not be a great strategy for Ocasio-Cortez who is, reportedly, a bit in danger in her own district after failing to build a structured relationship with her Bronx constituents — or even open an office to address their concerns in person. One primary focus of elected officials should be fundraising, not just for themselves, but for the party (though, of course, as a member of Justice Democrats, Ocasio-Cortez is likely boycotting the party over its refusal to hire Justice Democrats or any of its associated arms).
Still seething on Monday morning, Ocasio-Cortez fired at Pelosi head on. Again.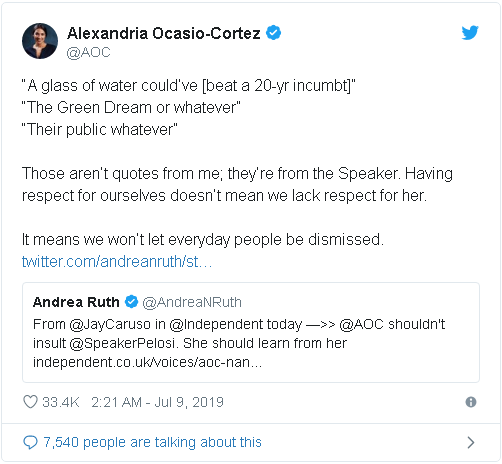 Technically, the first quote is inaccurate — Pelosi actually said that a cup of water with a "D" on it could win Ocasio-Cortez's district once the primary was over — but the tweet still functioned like a progressive Bat Signal, and Ocasio-Cortez's progressive allies joined in.
Rep. Ilhan Omar piled on on Twitter.