Facts: Gun Rights vs Gun Control
August 14, 2019

Gun violence is a fact of life in the United States and, in 2019, mass shootings continue to occur with frightening regularity.
Mass murders, such as those at schools in Parkland, Fla., and Santa Fe, Texas, at a newsroom in Maryland and at houses of worship in Poway, Calif., Pittsburgh, Pa., Sutherland Springs, Texas, and Charleston, S.C., shock the conscience and spur debate — but with little action from Congress.
In 2018, there was at least one mass shooting a month, more than 20 overall according to ABC News' definition of a mass shooting.
Already in 2019, there have been a number of mass shootings. In April 2019, a shooting at a synagogue in the town of Poway in Southern California killed one and injured three in what officials deem a hate crime.
The Poway synagogue shooting came exactly six months after a man shouting anti-Semitic slurs opened fire on worshippers at the Tree of Life synagogue in an attack that left 11 dead. It was described by the Anti-Defamation League as the deadliest attack on the Jewish community in American history.
The deadliest mass shooting in modern American history occurred in October 2017 at a Las Vegas music festival, resulting in the deaths of 58 concertgoers and injuring hundreds more.
Only 16 months before that, a gunman armed with a handgun and a semi-automatic rifle murdered 49 people and injured 58 at an Orlando nightclub in what was then the country's worst mass shooting.
The horrific attack in Orlando came less than six months after a man and a woman opened fire at a San Bernardino, Calif., social services center, killing 14 and injuring 22.
And with each new mass shooting — from Columbine to Sandy Hook; Fort Hood to Virginia Tech — the national debate over gun ownership renews.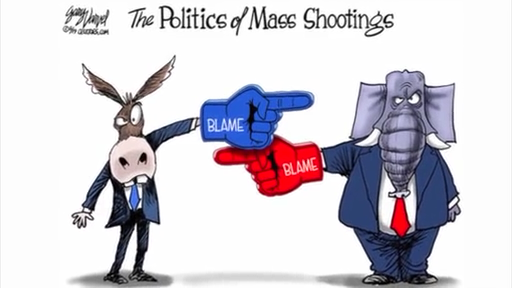 Despite the outpouring of grief and sympathy that followed the San Bernardino incident on Dec. 2, 2015, the very next day the Senate rejected a bill to tighten background check requirements on would-be gun buyers — just as it did in 2013, shortly after a lone gunman killed six adults and 20 children at Sandy Hook Elementary School in Newtown, Conn.
One small gun control measure undertaken by the Trump administration was the banning of bump stocks, a tool that allows semi-automatic rifles to fire as fast as automatics, after the Las Vegas shooting. The ban, which took effect in March, requires existing bump stocks to be turned in to the government or destroyed.
The issue of how to strike a balance between gun rights and public safety has been a political hot potato for years, and one that Congress has dealt with gingerly, if at all.
The political climate of 2019 would hardly seem ripe for action on the issue. Republicans generally oppose any type of gun control legislation — only four of 54 Senate Republicans voted in favor of the 2015 background check bill.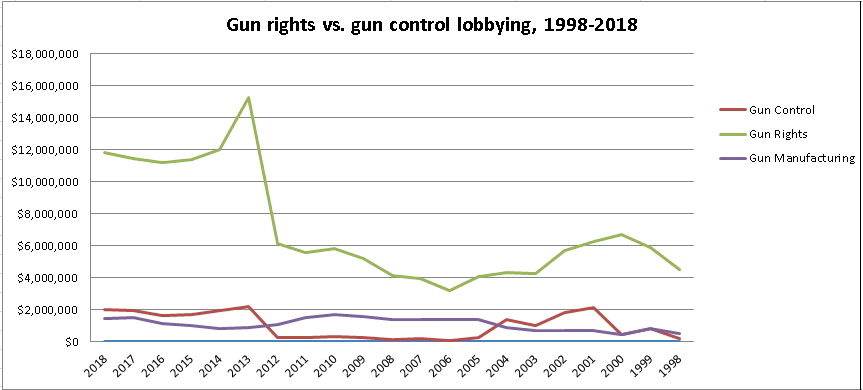 Data from OpenSecrets.org. Chart created by PowerVoter.us
President Donald Trump has repeatedly pledged to protect Second Amendment rights and often warns gun owners that their Second Amendment rights are "under assault." In an April speech to NRA members, Trump announced he will not ratify America's participation in the international Arms Trade Treaty, which would provide some international oversight on arms sales.
In opposition to the Republicans, the newly Democratic-controlled House has made passing gun control legislation a priority. So far, the House passed two measures with some bipartisan support that strengthen and expand the background check process. The House also passed a reauthorization of the Violence Against Women Act, opposed by the NRA because of the bill's measure that seeks to prevent domestic abusers from obtaining guns.
In June 2016, Democrats mounted a successful filibuster that forced Senate Republicans to vote on four gun control proposals none of which passed.
A .44 caliber political issue
The last major piece of gun control legislation to make it into law was the assault weapons ban, passed in 1994 as part of a larger crime-related bill approved by Congress and signed by then-President Bill Clinton. But the ban, which applied to the manufacture of 19 specific models of semi-automatic firearms and other guns with similar features, expired in 2004, and repeated attempts to renew it failed.
84% of Americans

support expanding background checks to include private firearm sales and purchases at gun shows, including a majority of Republican respondents. (Source: Pew Research Center, June 2017)
Some Democrats thought their support for the assault weapons ban cost them control of Congress in the 1994 midterm elections. Whether or not that's true, there's little question that the politics of gun ownership have swung to the right. Republicans largely oppose gun control, and Democrats are split, with some lawmakers cautious about going against the views of more conservative constituencies, especially in rural districts.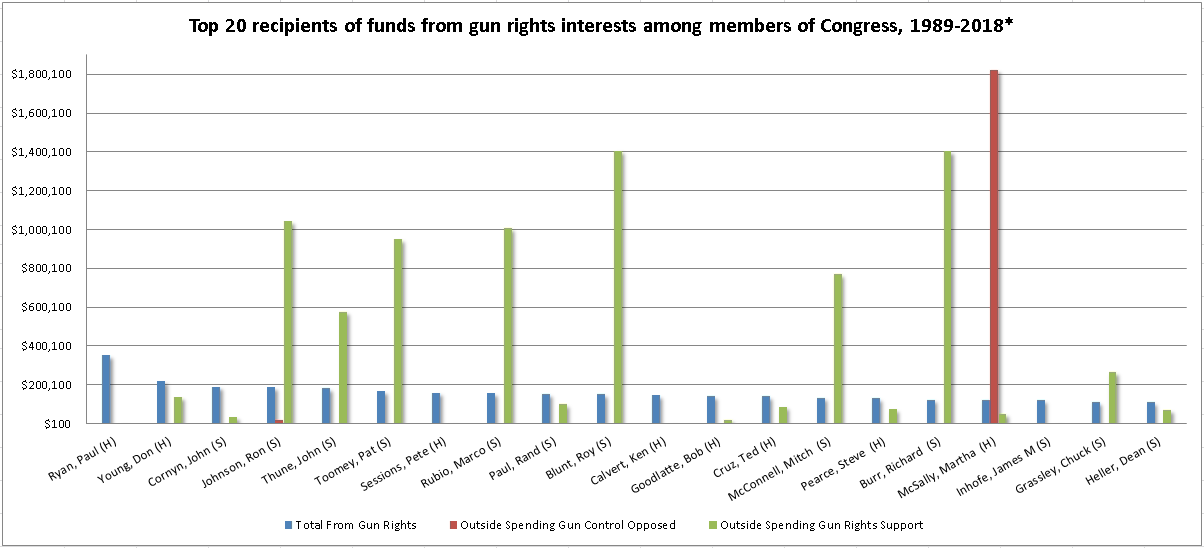 Data from OpenSecrets.org. Chart created by PowerVoter.us
Gun control versus gun rights will likely be a major issue of the 2020 presidential election. One Democratic candidate, Rep. Eric Swalwell (D-Calif.) said gun controlis the central issue he is running on. The necessity of more gun control legislation is essentially standard among all 21 Democratic candidates, several of whom own guns, currently running.
Still, despite highly publicized mass shootings, no gun control measures, with the exception of the bump stock ban, have made it into law.
That includes the so-called Manchin-Toomey amendment to require background checks in all commercial gun sales, including those at gun shows — the closest attempt in recent history to reform gun laws. The measure first came to a vote in April 2013, four months after the Newtown shooting. It failed, getting only 54 of the 60 votes it needed to overcome a filibuster.
The Center for Responsive Politics found that nearly all of the 46 senators who voted against the amendment had accepted significant campaign contributions from the political action committees of gun rights groups. There were exceptions to the rule, notably the measure's sponsors, Sens. Joe Manchin (D-W.Va.) and Pat Toomey (R-Pa.). But in general, the correlation was a close one.
No senators who were in office for the 2013 vote changed their position when the provision came up again after the San Bernardino killings in 2015. And the second time around, only 48 votes of support for expanding background checks could be found. Another bill put to a vote that day sponsored by Sen. Dianne Feinstein (D-Calif.) — would have prohibited individuals on the federal government's terrorist watchlist from buying guns. It was rejected as well.
The lack of movement on gun legislation runs counter to public opinion, which reveals a consistent desire for stricter laws. The Pew Research Center found in 2018that 89 percent of Americans, including a majority of Republican respondents, support preventing people with a history of mental illness from obtaining guns. A large majority, 67 percent, including a majority of Republicans, also support banning assault-style guns and high-capacity magazines.
Guns and money
There's no denying that much of the strength of the leading gun rights organization, the National Rifle Association (NRA), comes from its broad and passionate membership base and its mastery of grassroots politics.
But if lawmakers seem to tiptoe around gun issues, that could be in part because the NRA and other gun rights groups are loaded for bear with a seemingly limitless stash of cash ammunition.
Gun rights interests have given more than $43.8 million to candidates, parties and outside spending groups since 1989, with 90 percent of the funds contributed to candidates and parties going to Republicans. The NRA is consistently the top contributing organization among gun rights groups.
During the 2018 election cycle, the NRA further opened its coffers to make around $9.4 million in outside expenditures, a significant decrease from the $27 million spent during the 2014 midterm election cycle. It also marked a massive drop from the 2016 presidential election cycle when the NRA spent almost $54.4 million.
Gun control interests, by comparison, have generally been a blip on the radar screen. They've emerged as a greater political force in recent cycles, however.
They've given $9 million since 1989; 97 percent of their contributions to parties and candidates have gone to Democrats. Most of that, around $5.6 million, came in the 2018 cycle alone.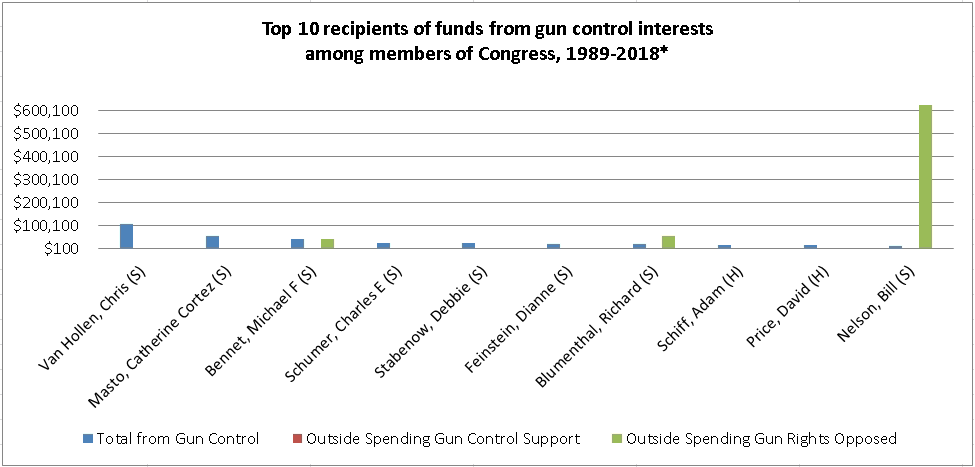 Data from OpenSecrets.org. Chart created by PowerVoter.us
Most of the gun control movement's political clout comes from two well-connected organizations. Giffords, founded by gun violence victim and former Rep. Gabby Giffords (D-Ariz.) and her husband, now U.S. Senate candidate Mark Kelly, spent almost $6.6 million on independent expenditures in 2018. Former New York City Mayor Michael Bloomberg's Everytown for Gun Safety spent $5.1 million.
Independence USA PAC, a super PAC backed by Bloomberg, says it supports a variety of causes including stricter gun laws. It spent around a whopping $37.5 million on independent expenditures during the 2018 midterms. The money supported federal candidates who favored gun control and attacked those who didn't — 21 of the 24 Democratic House candidates the super PAC supported won in 2018.
Gun rights groups are still powerful in the realm of lobbying. In 2018 the gun rights lobby spent almost $12.3 million making its case in Washington, the most since 2013 — the year of the Newtown school shooting. Gun control groups spent $2 million on lobbying, close to the $2.2 million dropped in 2013, also their high watermark year.
Through the first quarter in 2019, gun rights groups still dominate lobbying efforts — spending $2.5 million compared with $650,000 from gun control groups.
Source: OpenSecrets.org