< Back
I'm a nurse and I want to say thank you for the kindness shown during coronavirus pandemic
April 9, 2020
While so much is changing in the world because of the coronavirus pandemic, one positive note has been the outpouring of support to health care workers on the front lines, from hospital food deliveries to the cheering that happens daily at 7 p.m. in New York City.
Lauren Mochizuki, an emergency room nurse in Orange County, California, said she has never seen anything like it in her 11-year career.
"I have never seen this kind of generosity and humanity," Mochizuki told "Good Morning America." "Every shift I go in, it feels like some organization or some person or some other department is thinking about us and showing us that with these different things."
"It's really touching," she said.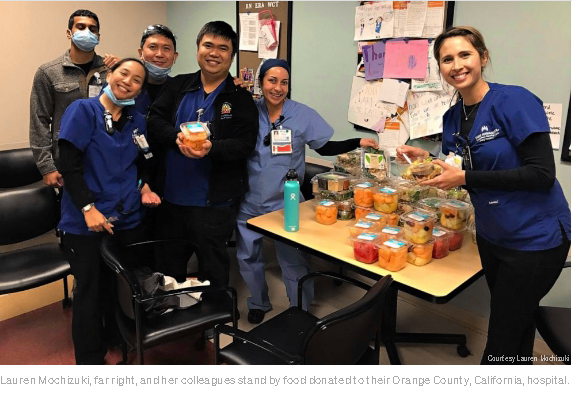 Emergency department staffers in the hospital where Mochizuki works have received donated lunches and dinners as well as handmade cards from children, which they've used to decorate their break room.
People and organizations have also donated everything from the personal protective equipment (PPE) that is critical to protecting health care workers to protein bars to help keep them fueled, according to Mochizuki.
"Yesterday we ran out of hair coverings and someone saw that on Instagram and donated some," she said. "Another woman made care packages that had things like a protein bar and lotion and a handwritten note."
One day, Mochizuki walked out to the area where ambulances arrive and flying above was a plane that wrote the words "Thank you first responders" in the sky above.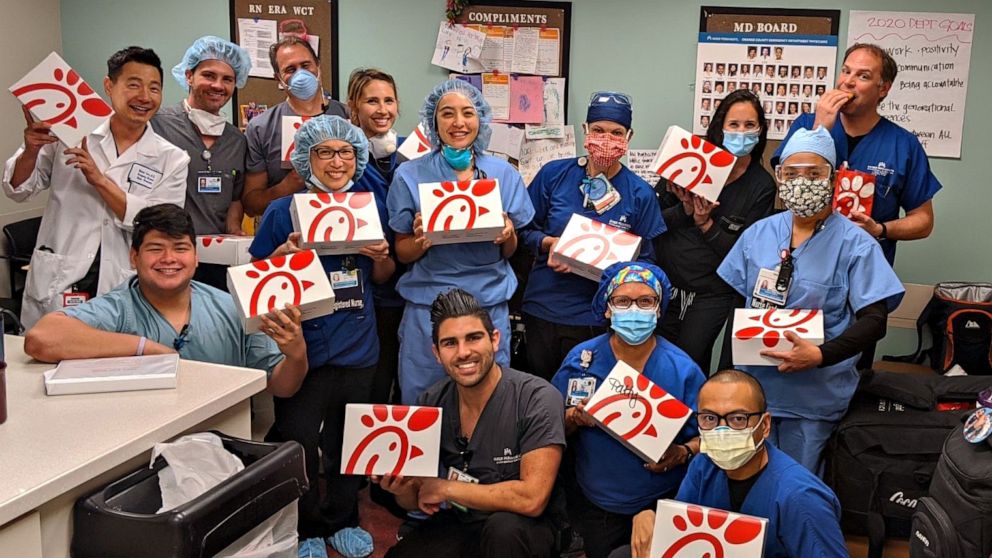 "More than anything, it's so encouraging," said Mochizuki. "When we go in to work, in the back of all of our minds we're wondering how does this potentially affect our home life and our ourselves, so when we see all these notes and food, it's a morale booster because we get excited."
"It takes a little bit off that pressure and worry and stress and replaces it with joy," she said.
Mochizuki said she and her emergency department coworkers have even received donations from other units in the hospital. They are now paying it forward and plan to send something to the hospital's environmental services team that cleans the hospital and prepares the emergency room for patients.
"[People donating to us] sparks a spiral of gratitude," she said. "It inspires us to want to help others and remember to be happy and that we should be really thankful for these jobs that we have."
Mochizuki is the mother of a 6-year-old son and a 4-year-old daughter and her husband is a firefighter. She said people who are following orders to stay home also deserve a big thank you from nurses like herself.
"Remember that what you're doing makes a difference," she said. "It's not just about you but about your parents and your grandparents and all health care workers."
"Right now everyone can make a difference, health care worker or not," said Mochizuki.
Source: https://www.goodmorningamerica.com