2018
General election
Incumbent Joan Heckaman (D) defeated Judy Estenson (R) in the general election for North Dakota State Senate District 23 on November 6, 2018.
Candidate

%

Votes

✔

Joan Heckaman

(D)
3,401

Judy Estenson

(R)
2,842
Other/Write-in votes
6
Democratic primary election
Incumbent Joan Heckaman advanced from the Democratic primary for North Dakota State Senate District 23 on June 12, 2018.
Candidate

%

Votes

✔

Joan Heckaman

(D)
1,202
Republican primary election
Judy Estenson advanced from the Republican primary for North Dakota State Senate District 23 on June 12, 2018.
Candidate

%

Votes

✔

Judy Estenson

(R)
1,505
2014
Estenson ran for election to the office of North Dakota Commissioner of Agriculture. Estenson was seeking the Republican nomination in the primary on June 10 but dropped out of the race on April 6 after she came second at the GOP state convention.
Race background
The North Dakota Commissioner of Agriculture also serves as a member on the state's three-member Industrial Commission. This commission, among many duties, regulates North Dakota's oil and gas industry. The race for agriculture commissioner took on a heightened profile due to candidate disagreements over how to deal with the rush to extract oil and gas from the Bakken shale.
The incumbent, Republican Doug Goehring, expressed support for an accelerated rate of oil extraction, opposing legislation that might slow down the growth of drilling. In a speech at the state Republican convention, he implied support for a balanced approach, saying that "the ties between agriculture and energy have never been more important that they are today," but the North Dakota Farm Bureau endorsed his primary challenger, Judy Estenson. Estenson, who was running to reform the office following allegations of mismanagement and harassment, lost the state GOP endorsement and dropped out of the race.
The Democratic challenger, Ryan Taylor, expressed concern about the consequences of the oil rush. He said, "You can't unleash all that oil and then wonder why the train tracks are full of oil tankers and you can't get grain on from the elevators in North Dakota and get that product to market." Taylor advocated for greater weight on agricultural considerations; he was described as "the man who's going to bring balance to the Industrial Commission."
Issues background: Fracking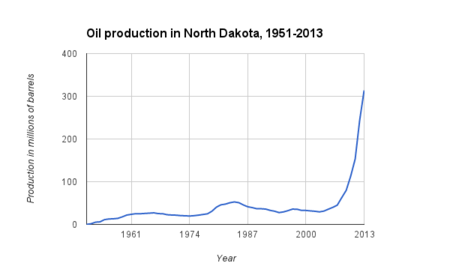 Since oil was first struck in 1951 in North Dakota, over 13,000 wells have been drilled. The graph to the right shows how oil production has soared in the state, growing from 45.14 million barrels of oil in 2007, to 313.8 million barrels in 2013. This growth has brought both opportunities and challenges for the state. A study for the American Petroleum Institute estimated that 12 percent of state employment, and 13.1 percent of labor income in 2011, was due to the oil and gas industry.
The growth of the industry has also brought challenges, however, as large numbers of people have moved to the area seeking employment. This migration has increased the demand for housing, as well as police, fire and other government services. Additionally, concerns have been raised over the potential environmental impacts of such a large-scale boom. While fracking has been used for decades in the United States, there are concerns over the ability of regulators to enforce environmental protections consistently.