Full Name:

Kamala D. Harris

Gender:

Female

Family:

Husband: Doug; 2 Step-Children: Ella, Cole

Birth Date:

10/20/1964

Birth Place:

Oakland, CA

Home City:

San Francisco

,

CA

Religion:

Baptist
Senator, United States Senate, California, 2017-present
Candidate, President of the United States, 2020
Attorney General, State of California, 2011-2016
Budget, Member
Homeland Security and Governmental Affairs, Member
Judiciary, Member
Permanent Subcommittee on Investigations, Member
Select Committee on Intelligence, Member
Subcommittee on Federal Spending Oversight and Emergency Management, Member
Subcommittee on Intellectual Property, Member
Subcommittee on The Constitution, Member
District Attorney, City and County of San Francisco, 2004-2011
Chief, Community and Neighborhood Division, Office of the San Francisco City Attorney, 2000-2003
Attorney, Career Criminal Unit, Office of the San Francisco District Attorney, 1998-2000
Deputy District Attorney, Alameda County, 1990-1998
Former Fellow, Aspen Institute
Former Member, California District Attorneys Association Board
Vice President, National District Attorneys Association
Awards:

Top 100 Lawyers in California,
2006, California Lawyer Magazine

Top 100 Lawyers in California,
2005, Daily Journal Newspaper

Most Distinguished Alumni,
Howard University

100 Most Influential Black Americans,
Ebony Magazine

"Woman of Power",
National Urban League

Child Advocate of the Year,
2004, San Francisco Child Abuse Prevention Council

Father's Name:

Donald

Favorite Book:

The Kite Runner, Dreams From My Father, The Joy Luck Club, and Native Son

Favorite Movie:

Logan, Black Panther, Steel Magnolias, A Star is Born, My Cousin Vinny, Wonder Woman, Antwone Fisher, Ratatouille, Dark Knight

Favorite Quote:

"You may be the first to do many things, but make sure you are not the last."

- my mother, Shyamala G. Harris

Favorite TV Shows:

24, American Idol, anything on CNN, Baldwin Hills, 60 minutes, The Wire, Saturday Night Live, and VH1's Best Week Ever

Favorite Type of Music:

A Tribe Called Quest, Aretha Franklin, Bob Marley, Prince, Elton John, Too Short, John Legend, Raphael Saadiq, Ravi Shankar, Kendrick Lamar, Migos, Red Hot Chili Peppers, Carlos Santana, Miriam Makeba, Stevie Wonder, The Beatles, Maroon 5, The Jackson 5, Nina Simone

Hobbies or Special Talents:

Cooking, music, Farmer's Markets, movies, Sunday family dinners, spending time with my niece, and actually reading the entire Sunday New York Times on Sunday

Mother's Name:

Shyamala

Publications:

Smart on Crime: A Career Prosecutor's Plan to Make Us Safer
The Truths We Hold: An American Journey

Kamala Devi Harris (b. October 20, 1964, in Oakland, California) is a Democratic member of the U.S. Senate from California. Harris was first elected to the Senate in 2016. She became the second black woman elected to the U.S. Senate and the first Indian American to serve in the chamber.
On January 21, 2019, Harris announced she was running for president of the United States.
Harris is the former attorney general of California. She served in the position from 2011 to 2017. When she took office, Harris became the state's first female, first black, and first Asian American attorney general, as well as the first Tamil attorney general in U.S. history. She also served as San Francisco's district attorney from 2004 to 2011.
Harris was born in Oakland, California, in 1964. She graduated from Howard University with a degree in political science and economics in 1986 and earned her law degree from Hastings College in 1989.
After graduating from law school, Harris joined the office of the Alameda County district attorney, where she worked for eight years as a prosecutor. In 1998, Harris was hired as managing attorney for the San Francisco District Attorney's Career Criminal Unit. She transferred to head the Division on Families and Children in 2000. In 2003, Harris was elected San Francisco District Attorney. She won re-election in 2007.
In 2010, Harris defeated Los Angeles County District Attorney Steve Cooley (R) to win election as state attorney general, receiving 46% of the vote to Cooley's 45%. She won re-election in 2014 over attorney Ronald Gold (R) with 56% of the vote. In 2016, Harris defeated Rep. Loretta Sanchez (D) to win election to the U.S. Senate seat held by Barbara Boxer (D). She received 62% of the vote to Sanchez's 38%.
In 2009, Harris authored Smart on Crime: A Career Prosecutor's Plan to Make Us Safer, where she discussed potential changes to the criminal justice system. She wrote The Truths We Hold: An American Journey, a memoir, and Superheroes Are Everywhere, a picture book, in 2018.
Below is an abbreviated outline of Harris' academic, professional, and political career:
2017-Present: U.S. Senator from California
2011-2016: Attorney general of California
2004-2011: District attorney of San Francisco
1990-1998: Deputy district attorney, Alameda County, Calif.
1989: Graduated from the University of California, Hastings with a J.D.
1986: Graduated from Howard University with a B.A.
2020
Presidency
An election for president of the United States will be held on November 3, 2020. Harris announced she was running for president on January 21, 2019.
2016
rated California's U.S. Senate race as safely Democratic. California's U.S. Senate seat was open following the retirement of incumbent Barbara Boxer (D). Thirty-four candidates filed to run to replace Boxer, including seven Democrats, 12 Republicans, and 15 third-party candidates. Two Democrats, Kamala Harris and Loretta Sanchez, defeated the other 32 candidates to advance to the general election, where Harris ultimately triumphed. The primary took place on June 7, 2016.
U.S. Senate, California General Election, 2016
Party
Candidate
Vote %
Votes
Democratic
Kamala Harris
61.6%
7,542,753
Democratic
Loretta Sanchez
38.4%
4,710,417
Total Votes
12,253,170
Source:

California Secretary of State
U.S. Senate, California Primary, 2016
Party
Candidate
Vote %
Votes
Democratic
Kamala Harris
40.2%
3,000,689
Democratic
Loretta Sanchez
19%
1,416,203
Republican
Duf Sundheim
7.8%
584,251
Republican
Phil Wyman
4.7%
352,821
Republican
Tom Del Beccaro
4.3%
323,614
Republican
Greg Conlon
3.1%
230,944
Democratic
Steve Stokes
2.3%
168,805
Republican
George Yang
1.5%
112,055
Republican
Karen Roseberry
1.5%
110,557
Republican
Tom Palzer
1.2%
93,263
Libertarian
Gail Lightfoot
1.3%
99,761
Republican
Ron Unz
1.2%
92,325
Democratic
Massie Munroe
0.8%
61,271
Green
Pamela Elizondo
1.3%
95,677
Republican
Don Krampe
0.9%
69,635
Republican
Jarrell Williamson
0.9%
64,120
Independent
Elanor Garcia
0.9%
65,084
Republican
Von Hougo
0.9%
63,609
Democratic
President Cristina Grappo
0.8%
63,330
Republican
Jerry Laws
0.7%
53,023
Libertarian
Mark Matthew Herd
0.6%
41,344
Independent
Ling Ling Shi
0.5%
35,196
Peace and Freedom
John Parker
0.3%
22,374
Democratic
Herbert Peters
0.4%
32,638
Democratic
Emory Rodgers
0.4%
31,485
Independent
Mike Beitiks
0.4%
31,450
Independent
Clive Grey
0.4%
29,418
Independent
Jason Hanania
0.4%
27,715
Independent
Paul Merritt
0.3%
24,031
Independent
Jason Kraus
0.3%
19,318
Independent
Don Grundmann
0.2%
15,317
Independent
Scott Vineberg
0.2%
11,843
Independent
Tim Gildersleeve
0.1%
9,798
Independent
Gar Myers
0.1%
8,726
Total Votes
7,461,690
Source: California Secretary of State

Campaign themes
The following issues were listed on Harris' campaign website. For a full list of campaign themes, .
"

Civil Rights, Justice & Equality For All: Kamala has spent her entire career fighting for the voiceless and vulnerable in our society and against those who prey on them, and she'll continue those fights in the Senate. She will stand up for a woman's right to choose and equal pay for equal work, lead the charge against LGBT discrimination, work to pass comprehensive immigration reform, expand access to voting, and focus on fixing a broken criminal justice system.

Criminal Justice Reform: Kamala believes that we must maintain a relentless focus on reducing violence and aggressively prosecuting violent criminals. But as a career prosecutor, she has also seen firsthand the devastating effects of mass incarceration and the revolving door of recidivism. We deserve a better return on our investment. Instead of a justice system that responds to all crime as equal, we need a "smart on crime" approach – one that applies innovative, data-driven methods to make our system more efficient and effective.

Environment: Kamala believes that California's great strengths include its dramatic beauty and environmental diversity: from the tall, mist-shrouded redwoods to vast desert vistas; from stunning sandy beaches to rushing rivers and the soaring Sierra Nevada mountains; from productive agricultural valleys to rolling, oak-studded hills.

Foreign Policy: Kamala Harris's approach to foreign policy is informed by her work as a career prosecutor. We live in a dangerous world and she believes we need to be vigilant about the threats we face. She has tackled some of the biggest challenges we face across the globe – from dismantling human trafficking rings to taking down transnational criminal organizations that bring guns and drugs across our borders.

Higher Education: Kamala believes that meaningful access to education is a pathway to the American dream – it is how we build a better life for our families and ourselves. In today's economy, a postsecondary education is increasingly a necessity to secure sustainable employment with decent wages – but it shouldn't have to be that way.

"
—Kamala Harris' campaign website
2014
Harris won re-election to the office of state attorney general in 2014.
Results
Primary election
Attorney General of California, Blanket Primary, 2014
Party
Candidate
Vote %
Votes
Democratic

Kamala Harris

Incumbent
53.2%
2,177,480
Republican

Ronald Gold

12.3%
504,091
Republican

Phil Wyman

11.7%
479,468
Republican

David King

9%
368,190
Republican

John Haggerty

8.2%
336,433
Nonpartisan

Orly Taitz

3.2%
130,451
Libertarian

Jonathan Jaech

2.4%
99,056
Total Votes
4,095,169
Election results via

California Secretary of State
General election
Attorney General of California, 2014
Party
Candidate
Vote %
Votes
Democratic

Kamala Harris

Incumbent
57.5%
4,102,649
Republican

Ronald Gold

42.5%
3,033,476
Total Votes
7,136,125
Election results via

California Secretary of State
2010
2010 Race for Attorney General -

Democratic

Primary
Party
Candidate
Vote Percentage

Democratic Party

Kamala Harris
33.1%

Democratic Party

Chris Kelly

15.9%

Democratic Party

Alberto Torrico

14.9%

Democratic Party

Ted Lieu

10.5%

Democratic Party

Rocky Delgadillo

10.1%

Democratic Party

Pedro Nava

9.9%

Democratic Party

Mike Schmier

5.6%
Total Votes
1,676,360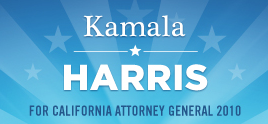 2010 Race for Attorney General - General Election
Party
Candidate
Vote Percentage

Democratic Party

Kamala Harris

46.0%

Republican Party

Steve Cooley

45.5%

Green Party

Peter Allen
2.7%

Libertarian Party

Timothy Hannan
2.5%

American Independent Party

Diane Templin
1,7%

Peace and Freedom Party

Robert J. Evans
1.6%
Total Votes
9,544,403
Do you generally support pro-choice or pro-life legislation?
- Pro-choice
1. In order to balance the budget, do you support an income tax increase on any tax bracket?
- Yes
2. Do you support expanding federal funding to support entitlement programs such as Social Security and Medicare?
- Yes
Do you support requiring states to adopt federal education standards?
- Unknown Position
1. Do you support the federal regulation of greenhouse gas emissions?
- Yes
2. Do you support government funding for the development of renewable energy (e.g. solar, wind, geo-thermal)?
- Yes
Do you generally support gun-control legislation?
- Yes
Do you support repealing the 2010 Affordable Care Act ("Obamacare")?
- No
Do you support the regulation of indirect campaign contributions from corporations and unions?
- Yes
1. Do you support federal spending as a means of promoting economic growth?
- Yes
2. Do you support lowering corporate taxes as a means of promoting economic growth?
- No
1. Do you support the construction of a wall along the Mexican border?
- No
2. Do you support requiring immigrants who are unlawfully present to return to their country of origin before they are eligible for citizenship?
- No
1. Should the United States use military force to prevent governments hostile to the U.S. from possessing a weapon of mass destruction (for example: nuclear, biological, chemical)?
- No
2. Do you support reducing military intervention in Middle East conflicts?
- Yes
Do you generally support removing barriers to international trade (for example: tariffs, quotas, etc.)?
- Unknown Position
Do you support increasing defense spending?
- Unknown Position