Trump Labor Secretary Alex Acosta defends controversial deal with 'predator' Jeffrey Epstein as Democrats demand resignation
July 10, 2019
By Dan Mangan & Kevin Breuninger | CNBC
Labor Secretary Alex Acosta at a press conference Wednesday defended at length a widely criticized deal that he cut as a top prosecutor which spared financier Jeffrey Epstein of serious federal charges a decade ago.
"In our heart, we were trying to do the right thing for these victims," Acosta said, two days after the filing of new child sex trafficking charges against Epstein in New York federal court sparked calls for Acosta to resign for charging him as U.S. Attorney for Miami in the mid-2000s.
"We believe we proceeded appropriately," Acosta said as he explained the basis for the 2007 deal and took questions about Epstein — a former friend of President Donald Trump and ex-President Bill Clinton — at a news conference at the Department of Labor.
"We did what we did because we wanted to see Epstein go to jail," Acosta said at the press conference, which lasted nearly one hour.
"He needed to go to jail."
Acosta suggested that what was a good deal at time was being looked at differently today, but also said that "facts are being overlooked."
"Times have changed, and coverage of this case has certainly changed, " Acosta said.
Acosta said that the deal he reached as Miami's top federal prosecutor guaranteed that Epstein would do jail time on a state charge, be forced to register as a sex offender, and offered the financier's victims a chance to obtain money damages.
"There was value to getting a guilty plea and having him register," Acosta said. "The world needed to be on notice that he was a sexual predator."
And Acosta noted that there was a risk of the prosecution losing at trial if federal charges were lodged against Epstein at the time.
"There's a big gulf between sufficient evidence to go to trial and sufficient evidence in the confidence of the outcome of that trial," Acosta said.
Acosta did not apologize to the women who say they were victimized by Epstein despite being asked several times if he would.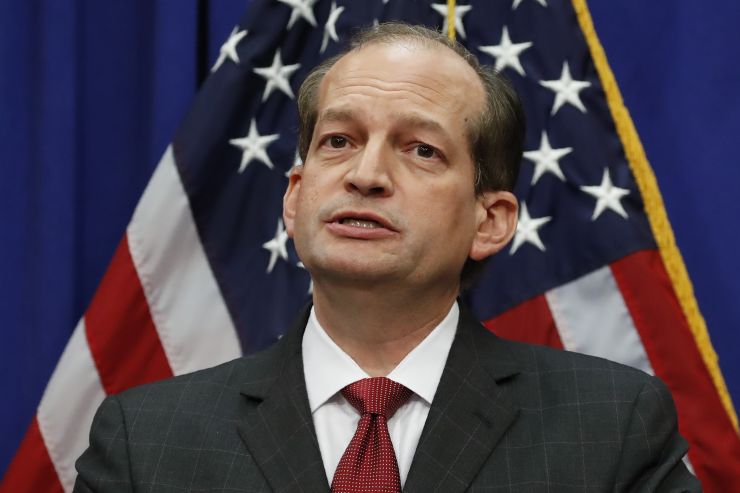 Labor Secretary Alex Acosta speaks during a media availability at the Department of Labor, Wednesday, July 10, 2019, in Washington.
Alex Brandon | AP
He said that before his federal prosecutors' office became involved in the case in the mid-2000s, a Florida state grand jury had recommended that Epstein face a single charge "which would have led to no jail at all, no registration [as a sex offender] and no restitution to the victims."
He said that fact led his office to intervene in the case, and to seek an arrangement that would ensure that Epstein went to jail.
Acosta said it is unusual for federal prosecutors to try to affect the outcome of a case that originates from state investigators.
"How many other times have you seen a us attorney's office intervene in a state matter and say 'stop the state plea because it is not sufficient? ' " Acosta asked.
"Without the work of our prosecutors, Epstein would have gotten away with just that state charge."
"We they were trying to do is to help these victims," Acosta said. "They should not be portrayed as people who just didn't care."
Trump personally urged Acosta during a phone call Tuesday to answer questions about his handling of an investigation of Epstein in Florida, sources told NBC News.
Acosta said Wednesday, "My relationship with the president's outstanding."
A slew of Democratic lawmakers and presidential candidate have demanded Acosta quit as Labor chief on the heels of Epstein's federal indictment in New York on Monday on charges of sexually abusing dozens of underage girls who at his Manhattan and Palm Beach, Florida, mansions from 2002 through 2005.
Some of the girls were as young as 14 at the time of the alleged abuse, according to court records in Manhattan federal court, where the 66-year-old Epstein faces a maximum sentence of 45 years in prison if convicted.
"If he refuses to resign, President Trump should fire him," Senate Minority Leader Chuck Schumer, D-N.Y., said of Acosta on the Senate floor Tuesday.
After Acosta's press conference, Sen. Richard Blumenthal, D-Connecticut, said, "Nothing said by Secretary Acosta at his press conference changes the verdict: he must go."
"Despite his attempts to justify it, his unconscionable sweetheart deal with sex trafficker Jeffrey Epstein still stinks. This secret deal was immoral – a betrayal of young survivors and basic justice," Blumenthal said.
The earlier federal Epstein probe that was overseen by Acosta focused on allegations that now are mirrored in the new indictment in New York, which was unsealed after Epstein's arrest on Saturday at a New Jersey airport.
Epstein, who has pleaded not guilty in the new case, remains in jail in a federal facility in Manhattan pending a detention hearing Monday.
The non-prosecution deal authorized by Acosta with Epstein required the wealthy money manager to plead guilty to a Florida state charge of procuring a person under 18 for prostitution and felony solicitation of prostitution, and register as a sex offender.
In exchange, the deal said Epstein would not face charges for up to five specific federal criminal violations. The agreement also said that several of Epstein's alleged co-conspirators would also not face charges.
Epstein ended up serving a custodial sentence of 13 months, but spent much of that time on work release.
Acosta said Wednesday that his office had expected that Epstein would be sentenced to 18 months, but that state officials ended up reducing the actual time.
"The work release was complete BS," Acosta said, noting that his office intended for Epstein to do all of his sentence locked up.

Alex Acosta, U.S. Secretary of Labor, stands before speaking during a press conference at the Department of Labor in Washington, D.C., U.S.,
on Wednesday, July 10, 2019. Andrew Harrer | Bloomberg | Getty Images
The Justice Department currently is conducting an internal investigation into how Acosta and other federal prosecutors handled the Epstein probe in the mid-2000s.
In February, a federal judge ruled that the prosecutors led by Acosta violated federal law by not informing Epstein's accusers about the agreement.
Acosta on Wednesday said that the agreement was kept hidden from accusers for some time before it was finalized because of concerns that Epstein would not comply with its provisions, and would use the fact that it included the potential for monetary compensation to the accusers against them on cross-examination by his lawyers if the case ever went to trial.
Acosta said that after it became clear that Epstein would comply, the prosecutor handling the case "made every effort" over the course of a weekend to notify the accusers in advance of Epstein's scheduled guilty plea in the Florida state case.
House Speaker Nancy Pelosi tweeted Monday night about Acosta: "As US Attorney, he engaged in an unconscionable agreement w/Jeffrey Epstein kept secret from courageous, young victims preventing them from seeking justice. This was known by @POTUS when he appointed him to the cabinet."
Acosta on Tuesday had responded on Twitter to the new charges against Epstein.
"The crimes committed by Epstein are horrific, and I am pleased that NY prosecutors are moving forward with a case based on new evidence," Acosta wrote.
"With the evidence available more than a decade ago, federal prosecutors insisted that Epstein go to jail, register as a sex offender and put the world on notice that he was a sexual predator," Acosta tweeted. "Now that new evidence and additional testimony is available, the NY prosecution offers an important opportunity to more fully bring him to justice."
Trump appeared to take Acosta's side Tuesday, telling reporters in the Oval Office that he feels "very badly" for the Labor Department chief.
But Trump added that he will be looking "very closely" at a non-prosecution agreement that Epstein signed with Acosta.
In 2002, Trump told New York magazine that he had known Epstein for more than a decade and called him a "terrific guy" who is "a lot of fun to be with."
"It is even said that he likes beautiful women as much as I do, and many of them are on the younger side," Trump told the magazine at the time. "No doubt about it – Jeffrey enjoys his social life."
But at the White House on Tuesday, Trump said that "I had a falling out a long time ago with him," Trump said. "I don't think I've spoken to him in 15 years."
"I was not a fan of his," Trump said.
The House Oversight and Government Reform Committee sent a letter Wednesday asking Acosta to testify in a public hearing on Tuesday, July 23, to answer lawmakers' questions about his role in Epstein's non-prosecution deal.
"Your testimony is even more critical now that federal prosecutors in the Southern District of New York unsealed a new indictment earlier this week outlining a host of additional charges against Mr. Epstein, including luring dozens of teenage girls to his homes in New York City and Palm Beach, Florida, and paying them to engage in sexual activity with him," Oversight Chairman Elijah Cummings, D-Md., said in the letter.