< Back
Pro-Trump Group Running 'Beijing Biden' Ads Accusing Biden Of Being Soft On China During Pandemic
April 16, 2020
#Elections #Politics #JoeBiden #BeijingBiden #SleepyJoe
TOPLINEA major Trump super PAC, America First, launched an attack ad campaign against Joe Biden on Thursday, accusing the presumptive Democratic nominee of being soft on China and calling President Trump's January travel restrictions on the country "xenophobic," in what is part of a larger strategy to link the former vice president to the country where the virus outbreak began.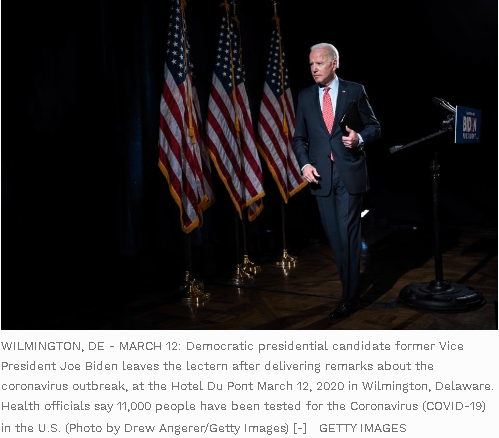 KEY FACTS
The new ads, which were first reported by Axios, will air in Michigan, Wisconsin and Pennsylvania, states that swept Trump to the White House in 2016 and polling analysts say will be pivotal to the president's reelection in 2020.
"A global crisis — President Trump took action," the narrator of the ad says, "but Joe Biden attacked Trump after the China travel ban"; the ad goes on to play a clip of the former vice president appearing to call the ban "xenophobic."
However, as fact-checkers have pointed out, it's not clear Biden was referring to the travel restrictions in the Iowa speech the ad is referencing: the former vice president never specifically mentions the ban in his speech that day, instead criticizing Trump for not preparing adequately for the pandemic.
Also, Biden's campaign has maintained the vice president did not even know about the restrictions when he took the stage; as the Washington Post reports, the restrictions on China, which were put in place the same day Biden delivered his speech, January 31, weren't announced until 3:55 p.m. EDT that day, about 15 minutes before Biden took the stage.
"We have, right now, a crisis with the coronavirus, from China," Biden said in the speech on January 31. "This is no time for Donald Trump's record of hysteria and xenophobia — hysterical xenophobia — and fearmongering to lead the way instead of science."
The America First ad also hits Biden for calling a "rising China" a "positive development" in a speech at Sichuan University in Chengdu, China, in 2011, and for saying people from China are not "bad folks"; the PAC says Biden's soft stance on China caused the U.S. to lose "hundreds of thousands of jobs."
CRUCIAL QUOTE:
Trump has accused Biden of calling the travel restrictions he imposed on China "racist" and "xenophobic" several times.
"I made a decision to close off to China," Trump said during a Fox News town hall in March. "That was weeks early, and honestly, I took a lot of heat. Sleepy Joe Biden said, 'It's xenophobic.' … He said it's racist, what I did."
CHIEF CRITIC
"Joe Biden called on Donald Trump to lead," Biden's campaign said in a statement to Forbes. "He publicly urged him not to believe China's spin about the worst public health crisis in over 100 years, and to insist that our CDC experts be given access there."
TANGENT
Trump, for his part, has at times praised China and President Xi Jinping for its response to the virus outbreak. On February 7, for instance, Trump tweeted: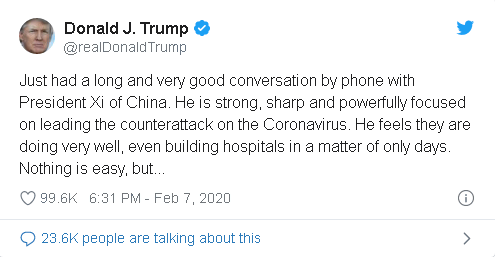 CNN identified 12 instances where Trump "praised or projected confidence" about the virus.
SURPRISING FACT
The PAC is also launching a new website, BeijingBiden.com, that will highlight Biden's ties to China.
BIG NUMBER
$10 million. America First plans to spend $10 million on airing the ads in Michigan, Wisconsin and Pennsylvania.