< Back
Trump says he's facing 'political persecution' after Supreme Court rejects his attempt to keep tax returns hidden
February 22, 2021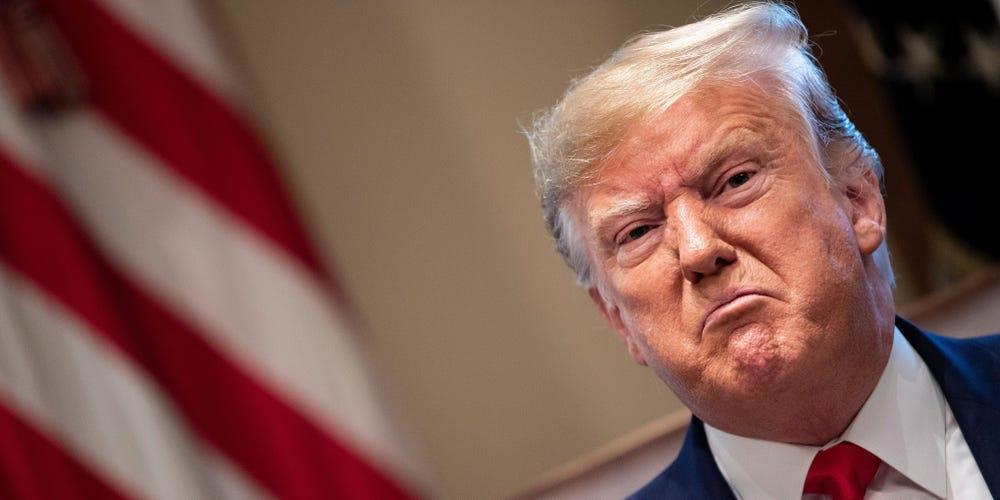 Former President Donald Trump criticized the Supreme Court for ruling against his attempt to keep his tax returns secret.
Former President Donald Trump in a statement on Monday blasted the Supreme Court over a decision that opened the door for the Manhattan district attorney to obtain his tax returns and other financial records.
"The Supreme Court never should have let this 'fishing expedition' happen, but they did," Trump said. "This is something which has never happened to a President before, it is all Democrat-inspired in a totally Democrat location, New York City and State."
Trump's statement portrayed the Supreme Court's decision as "political persecution."
Trump broke a decades-old precedent among US presidents by refusing to release his tax returns, though some details of his finances have surfaced in various media reports. One such investigation from The New York Times, for example, found that Trump paid a total of $750 in federal income taxes in both 2016 and 2017.
But the Supreme Court's decision on Monday does not mean Trump's tax records will automatically be made public. The documents will be subject to grand-jury secrecy laws, but this is still a major legal defeat for Trump. Insider senior reporter Jacob Shamsian reported the documents could become public if the Manhattan District Attorney's Office included them as evidence in an indictment or a trial. The district attorney's office is expected to receive the documents in the next few days, according to CNN.
The former president in his Monday statement also reiterated his false claim that he won the 2020 election. Trump's habitual, baseless allegations that the election was stolen from him were at the center of a violent insurrection at the US Capitol on January 6, which led to his second impeachment.
"This investigation is a continuation of the greatest political Witch Hunt in the history of our Country," Trump said of Manhattan District Attorney Cy Vance's inquiry into the former president's finances. Trump, without evidence, portrayed the investigation as politically motivated and akin to the two sets of impeachment proceedings against him, as well as the special counsel Robert Mueller's investigation into Russia's interference in the 2016 presidential election.
"These are attacks by Democrats willing to do anything to stop the almost 75 million people (the most votes, by far, ever gotten by a sitting president) who voted for me in the election — an election which many people, and experts, feel that I won. I agree!" Trump added. The former president received about 74.2 million votes in the 2020 election and was defeated by President Joe Biden by more than 7 million votes.
"I will fight on, just as I have, for the last five years ... despite all of the election crimes that were committed against me. We will win!" Trump said.
Though Trump was recently acquitted in the Senate impeachment trial over his role in provoking the Capitol attack, he still faces significant legal woes — including Vance's investigation.
Trump's effort to overturn the election result, which at one point involved pressuring Georgia's top election official to "find" about 12,000 votes to overturn Biden's victory, has also landed him in legal trouble. Prosecutors in Fulton County, Georgia, on February 10 announced they were launching a criminal investigation into Trump's election pressure campaign.
Additionally, it's possible that the wide-ranging federal investigation into the Capitol attack could lead to serious legal problems for Trump, given that he provoked the fatal insurrection.

Source: https://www.businessinsider.com