'When the looting starts, the shooting starts': Trump outraged by Minnesota protests
May 29, 2020
by Spencer Neale& Daniel Chaitin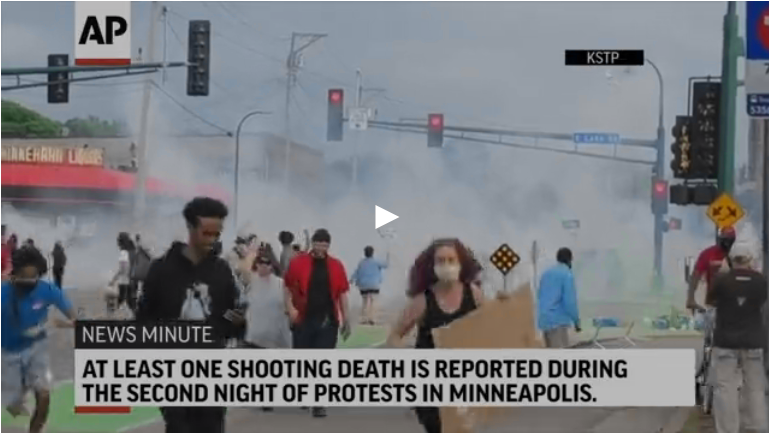 President Trump reacted with shock and anger to the third night of protests in Minneapolis in reaction to the death of George Floyd, who died in police custody this week.
Just before 1 a.m. ET, after the Minneapolis Police Department's 3rd Precinct was set on fire, Trump shot off a series of tweets that decried a "lack of leadership" from Minneapolis officials before comparing the protesters to "thugs."
"I can't stand back & watch this happen to a great American City, Minneapolis. A total lack of leadership. Either the very weak Radical Left Mayor, Jacob Frey, get his act together and bring the City under control, or I will send in the National Guard & get the job done right," Trump said in one tweet.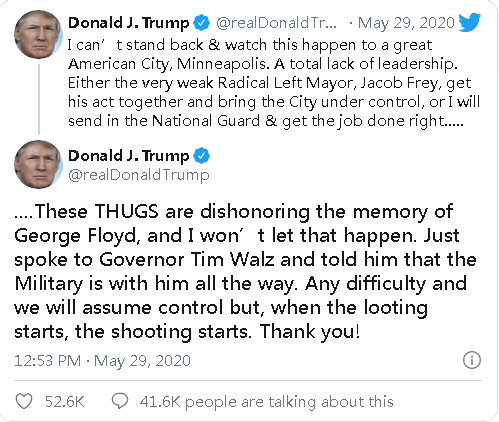 "These THUGS are dishonoring the memory of George Floyd, and I won't let that happen," Trump said in another tweet. "Just spoke to Governor Tim Walz and told him that the Military is with him all the way. Any difficulty and we will assume control but, when the looting starts, the shooting starts. Thank you."
Thousands of people took to the streets on Thursday night marking the third day of protests following the death of Floyd on Monday.
Floyd, a 46-year-old black man, died after being handcuffed and pinned to the ground by a white officer's knee. Video of the incident, taken by a bystander, led to community outrage.
The four officers who responded to the scene have been fired by the department and Floyd's family and others have called for them to be charged with murder.
The Justice Department and FBI announced Thursday they are conducting a "robust criminal investigation" into Floyd's death.
More than 500 members of the Minnesota National Guard were deployed St. Paul, Minneapolis and surrounding communities Thursday evening after Gov. Tim Walz activated them to protect residents and maintain peace.
Source: https://www.washingtonexaminer.com/