Trending List
>>
Yang becomes fourth presidential candidate to sign pledge to end 'Forever War'
Yang becomes fourth presidential candidate to sign pledge to end 'Forever War'
May 28, 2019
BY CHRIS MILLS RODRIGO - 05/28/19 04:13 PM EDT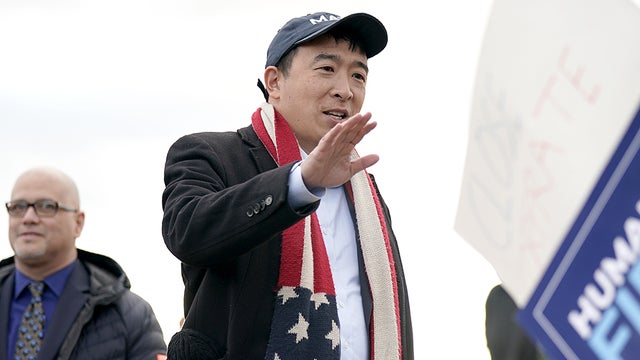 Entrepreneur Andrew Yang on Tuesday became the fourth Democratic presidential hopeful to sign a pledge to end the "Forever War," referring to ongoing military conflicts abroad.
Yang joined Sens. Elizabeth Warren (D-Mass) and Bernie Sanders (I-Vt.) and former Sen. Mike Gravel (D-Alaska) in signing the pledge from veterans group Common Defense.
The "End The Forever War" pledgecalls for bringing the global war on terror and U.S. involvement in conflicts in Afghanistan, Iraq, Syria and elsewhere to an "expedient conclusion."
"We've continued in a constant state of war for the last seventeen years, and it has cost us tremendously in American lives as well as billions of dollars that could have been used to help families here at home," Yang said in a statement.
"Ending the forever wars is not just a slogan but is instead my top foreign policy priority, and I am committed to bringing these wars to a conclusion and restoring the power to intervene militarily to Congress where it belongs."
Other congressional sponsors of the pledge include Sen. Jon Tester (D-Mont.) and Reps. Alexandria Ocasio-Cortez (D-N.Y.), Rashida Tlaib (D-Mich.), Ilhan Omar (D-Minn.), Ro Khanna (D-Calif.) and Mark Pocan (D-Wis.).
Common Defense is an organization that advocates dialing back the U.S. military's role overseas, and it counts the support of tens of thousands of veterans and military families across the country, according to its website.
Source: https://thehill.com/homenews/campaign/445809-yang-becomes-fourth-presidential-candidate-to-sign-pledge-to-end-forever