< Back
Trump appears to equate Chinatown with China
April 17, 2020
#DonaldTrump #CoronavirusImpact #China #Politics
By Kimmy Yam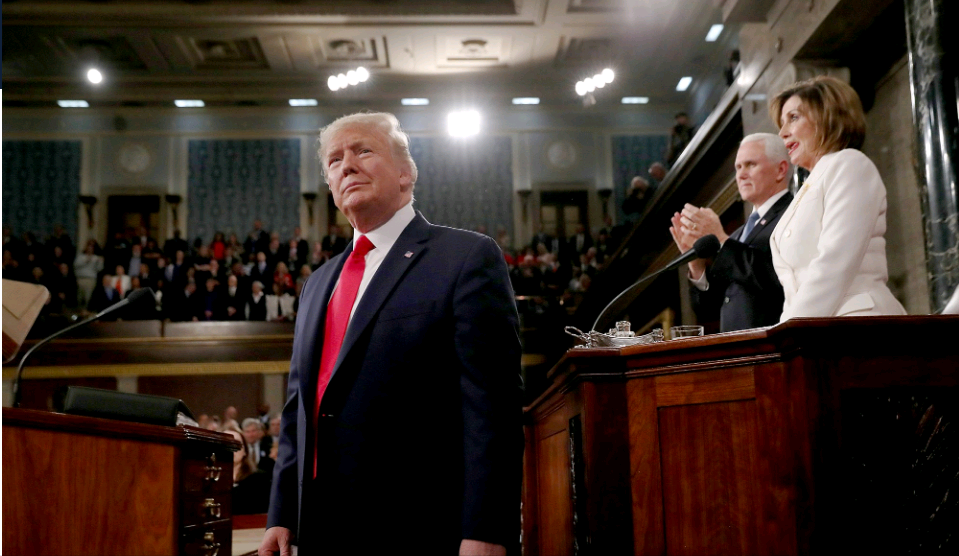 Social media users criticized President Donald Trump for a tweet Thursday that appeared to equate people from Chinatown with those from China.
Trump shared a video from February in which House Speaker Nancy Pelosi, whose district includes San Francisco's Chinatown, advocates for people to visit the neighborhood three weeks before the state issued stay-at-home orders because of the COVID-19 pandemic.
"To everyone, you should come to Chinatown. Precautions have been taken by our city. We know there's been a concern about tourism traveling all throughout the world, but we think it's very safe to be in Chinatown and hope that others will come," Pelosi says in the video, taken from a news conference with local business owners urging people not to discriminate against Asian-owned businesses.
The president accused Pelosi of encouraging people to "pack" the American neighborhood after his administration had restricted flights from China weeks ahead of the news conference.
"Crazy Nancy Pelosi deleted this from her Twitter account. She wanted everyone to pack into Chinatown long after I closed the BORDER TO CHINA," he wrote. "Based on her statement, she is responsible for many deaths. She's an incompetent, third-rate politician!"
Full coverage of the coronavirus outbreak
The Trump administration did not completely bar entry from China; rather, it restricted the entry of foreign nationals who traveled to the country within the previous 14 days. The administration made exceptions for immediate family members of U.S. citizens and permanent residents. Pelosi spokesperson Drew Hammill also noted in a tweet that the speaker did not post and delete the video, which came from San Francisco television station KPIX.
The tweet prompted backlash from many in the Asian American community and beyond, including the chairwoman of the Congressional Asian Pacific American Caucus, Rep. Judy Chu, D-Calif., and Chris Lu, who was Cabinet secretary in the administration of President Barack Obama. They pointed out that Asian Americans are experiencing a significant rise in hate attacks tied to COVID-19 and accused him of pushing the idea that Asian Americans are perpetual foreigners.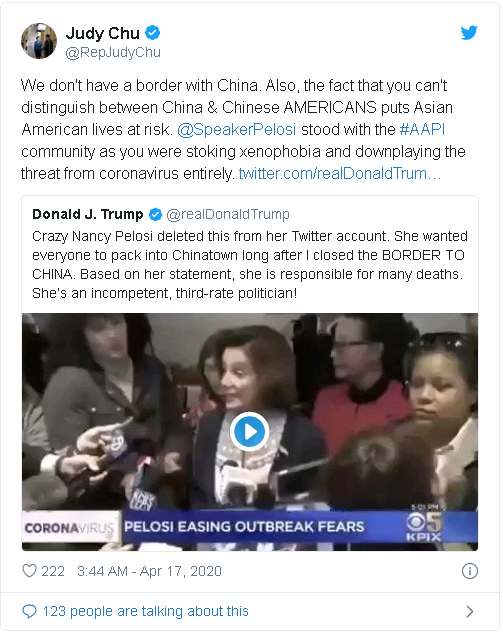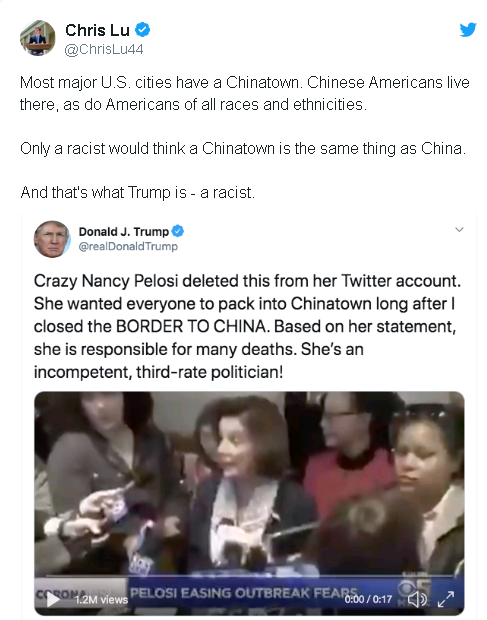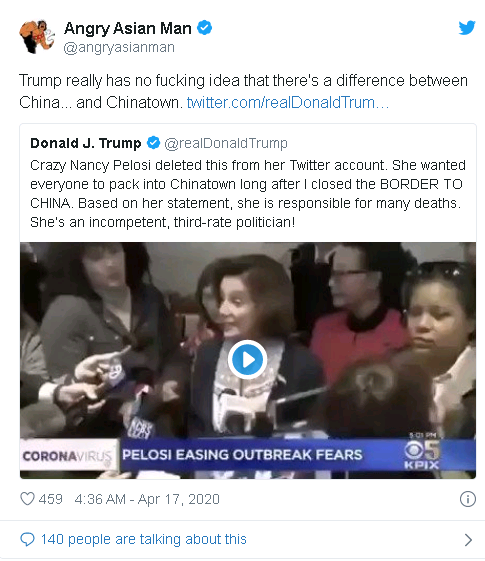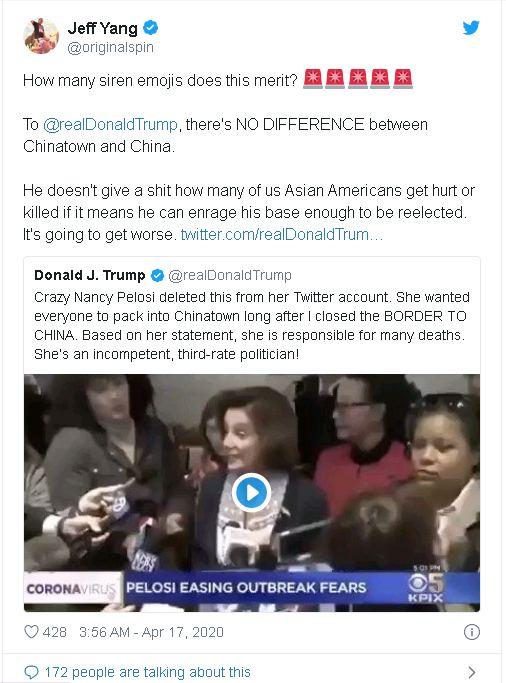 Trump's tweet echoes comments he made about the speaker during a news conference about the pandemic on Wednesday, when he accused Pelosi of "trying to have San Francisco parties in Chinatown."
Taylor Griffin, a spokesperson for Pelosi, said in a statement to NBC News that Pelosi stands by her condemnation of anti-Asian racism.
"Amid the unprecedented coronavirus public health crisis, the Asian American community is battling the pandemic on multiple fronts as their health, dignity and safety are under attack with the rise of anti-Asian racism," Griffin said. "As she communicated during her visit to Chinatown three weeks prior to the shelter-in-place order, Speaker Pelosi remains staunchly committed to combating bigotry while ensuring the safety and economic wellbeing of the AAPI community in San Francisco and across our nation."
Source: https://www.nbcnews.com